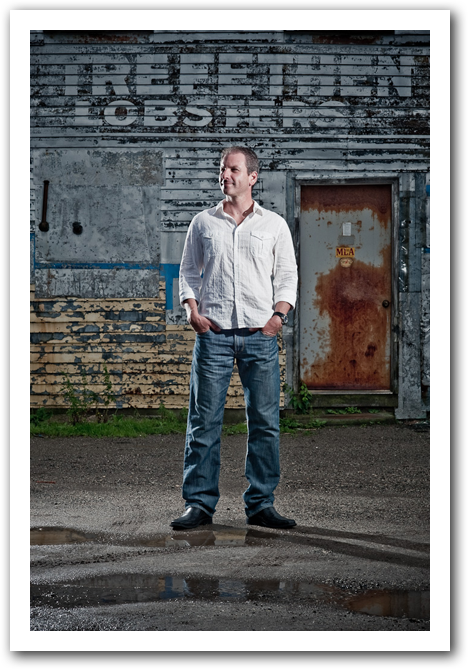 Hanging in Flyte New Media President Rich Brooks' office is a Spiderman calendar. Standing in his office is a cardboard cutout of the red, blue and black costumed Marvel superhero.
"I love the 'With great power comes great responsibility' bit," Brooks told me. I am more a fan of Peter Parker than anything else. I was him when I was a kid and not in a cool or hip way. When I was a kid, it seemed like we could have been the same person, without the powers or hot girlfriend. When he got his power, he used it to help people. I liked that a lot."
Brooks is smart, funny, and incredibly social—and in this way, the kind of guy I distrust immediately. His eyes actually sparkle when he smiles, and he is infectiously enthusiastic. After knowing Brooks for a while, and getting over my immediate distrust, I have come to know, respect and appreciate him greatly. He is a good guy, a smart guy, and energetic guy, and he is in the game to make some money, sure, but he is genuinely interested in doing some good with the power he has amassed as a business owner over the years. "We don't help build websites," he says. "We help to build businesses."
I met Brooks at a Tweetup right around when I was just getting back to Maine after having spent a good deal of time away. For the uninitiated, a Tweetup is a social event where a group of people who have Twitter usage and another overlapping interest in common get together and hang out in real life. In larger cities, Tweetups can be interest specific—Parks and Recreation fans, Football fanatics, BDSM fetishists, whatever. Because Maine is so small, Twitter usage alone is what brings people together once a month, and so the Tweetup community here is thusly a group of folks coming from a number of different backgrounds, perspectives and points of view. Rich was instrumental in bringing this group together, and now that it has grown into a rotating cast of a couple hundred folks, he remains an anchor within it.
Rich is modest about his role in all of this. A Flyte employee, Joan Woodbrey Crocker, is in charge of organizing the Tweetup events these days, but Rich's modesty does not properly reflect the impact he has had on the Southern Maine social web community (and way, way beyond). While Social Media Breakfast, an event where folks get together once a month to learn about the newest phenomena in social media, is overseen, organized and made incredibly successful by the wonderful Amanda O'Brien of Hall Web Marketing, it was initially an idea that was piloted locally by Brooks and [now Coupon Queen] Chrystie Corns. That duo would later go on to organize the Social Media FTW conference for two years running with the aid of Jaica Kinsman, which brought some of the biggest personalities in this scene to speak in the state about the topic, and the conferences were both successful in their respective draws and impact.
Further, Brooks' modesty is admirable, but it doesn't reflect the reality of his professional situation. He started his business as a web designer in 1997 in Jamaica Plain, moved to Maine after "marrying a nice Jewish girl" in 2000 and has since grown his company to 8 employees (Cybele, his wife, is Flyte's Vice President). "I never wrote a business plan," he says. "I did one thing, learn how to do it well, taught it, and hired someone to take on the task and move on. If it is a revenue generator, then I pass info along to person who can work with on making it happen." Of running his business in Maine, he says of the negative press the state's business environment has earned from Forbes, "[Expletive] that list. I don't care what they say about the climate, I see plenty of people doing this. I live close to mountains and they are within 15 minutes of my work. There are challenges everywhere. We decide how we want to live and we make it happen."
His newest project is Marketing Agents, a blog that features "expert interviews, easy to follow how-to articles, and success stories from people" in the professional social web realm. He explains that he likes it because it is equal parts learning and sharing knowledge. The site is handsome and rich with input from folks of all different stripes. Check in on it to see what Brooks is learning about, thinking on, and sharing.
Check out the blog, keep an eye out for any of his upcoming events or, if you haven't already, give a Tweetup a try. He'll be the enthusiastic, modest, occasionally wise-cracking, Spiderman-loving organizer at the center of the crowd. Tell him Alex says hello.
PHOTO CREDIT: The Great Matthew Robbins